Middle Grade Book Discussion
Last Weds. of Month @ 6 PM
Large Meeting Room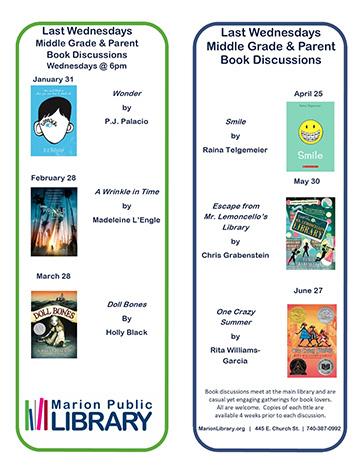 Calling all readers! Especially Middle School age.
The library is the place to be if you want to read and have a discussion about some awesome books. From January to June, on the last Wednesday of the month, the library is putting on book discussions for kids in grades 4-8 or about ages 9-13 (and their parents!). Pick up a copy of the book at the library, read it at your leisure, and join us on the last Wednesday of the month for fun and engaging conversation with other readers. If you love books, then you won't want to miss this!
January 31: Wonder - R.J. Palacio
February 28: A Wrinkle in Time - Mandeleine L'Engle
March 28: Doll Bones - Holly Black
April 25: Smile - Raina Telgemeier
May 30: Escape from Mr. Lemoncello's Library - Chris Grabenstein
June 27: One Crazy Summer - Rita Williams-Garcia
Coordinator: Katie